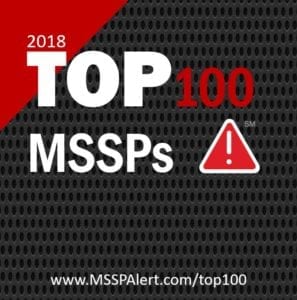 POINT ROBERTS, WA. – Sept. 20, 2018 – Fortify 24×7, a leading cybersecurity firm headquartered in Point Roberts, Washington, and serving clients nationally, was named by MSSP Alert, the global voice for managed security service providers (MSSPs), to its 2018 Top 100 MSSPs list.
Fortify 24×7 has made the MSSP Alert Top 100 both years since its inception and is the only Point Roberts-based firm on the list.
"After Nines Inc. and MSSP Alert congratulate Fortify 24×7 on this year's honor," said Amy Katz, CEO of After Nines Inc. "As MSPs increasingly introduce managed security services, Fortify 24×7 continues to stand out in the fiercely competitive cybersecurity market."
The Need for World-Class Managed Security Services
According to MSSP Alert, the demand for MSSPs has escalated amid rising cyberattacks, malware and ransomware incidents worldwide. The cybersecurity skills shortage has further heightened the need for world-class MSSPs. The global managed security services market is expected to skyrocket to $101 billion in the next nine years, advancing at an eye-popping 18% compound annual growth rate, according to Persistence Market Research.
"We believe the responsibility of protecting our managed security customers is paramount," said Harold Charlap, co-founder and COO of Fortify 24×7. "There has to be trust and confidence in our abilities and we're honored these efforts have been recognized by MSSP Alert."
Fortify 24×7 assists companies in making informed business decisions and sustaining operational effectiveness in the design, implementation, and management of their cybersecurity programs.
Fortify 24×7's Cybersecurity Managed™ program delivers a comprehensive and customizable set of strategic and adaptive cybersecurity services which address the entire security landscape. These services include assessment and planning, pen testing and threat hunting, SIEM management and security monitoring, perimeter and endpoint protection, secure cloud networking and incident response.

MSSP Ranking Factors
According to MSSP Alert, MSSP 100 rankings are based on aggregated and weighted data from the following sources:
MSSP Alert worldwide survey of MSSPs
Gartner Magic Quadrant MSSPs
Forrester Wave MSSPs
IDC MarketScape: Worldwide Managed Security Services
Nelson Hall Managed Security Services Report
Cybersecurity 500: MSSP Category
MSSP Alert stated that MSSPs featured on the list proactively monitor, manage and mitigate cyber threats for businesses, government agencies, educational institutions and nonprofit organizations of all sizes.
To learn more about Fortify 24×7's managed security services, click here.
To view the entire MSSP Top 100 list, click here.