A yet to be identified male attacker, armed with a knife, stabbed at least 10 passengers on board a commuter train in the Japanese capital, Tokyo, on Friday night, August 6.
The attack occurred on an evening commuter train in Tokyo's Setagaya ward, which is located in the western part of the city.
Tokyo and the surrounding region remain at a heightened security posture due to the ongoing Summer Olympic Games, which conclude on Sunday, August 8.
The location of the attack is within several kilometers of the Olympic equestrian venue.
Odakyu Electric Railway Company, the operator of the train, reported that the stabbings occurred near the Seijogakuen rail station. In a posting on its public website, Odakyu cited suspension of some passenger train services after "an assault in a carriage." According to coverage by NHK public television, two passengers have suffered serious injuries. Immediately following the attack, the train reportedly stopped between stations – not far from the Seijogakuen station – apparently from a pulling the emergency brake.
The suspect allegedly left the knife used in the attack and a mobile phone in the train as he fled the scene.
The NHK account notes police have arrested a male suspect, estimated as aged in the 20s.
This suspect reportedly entered a convenience store and stated he had tired of running.
The store manager observed blood stains on the man's shirt and called Tokyo police.
A representative of the Tokyo Fire Department has confirmed that nine of the ten injured passengers have been transported to area hospitals for treatment.
All victims were conscious when assessed by first responders.
The tenth victim did not require significant medical care – and walked away from the scene.
Witnesses reported observing panicked passengers running out of the affected train's rail cars. Some of these passengers were smeared with blood. A public announcement made at the Seijogakuen station asked for aid from any doctors among the passengers and for towels that passengers may have been carrying. Local police and emergency services officials have declined to comment on the news reports.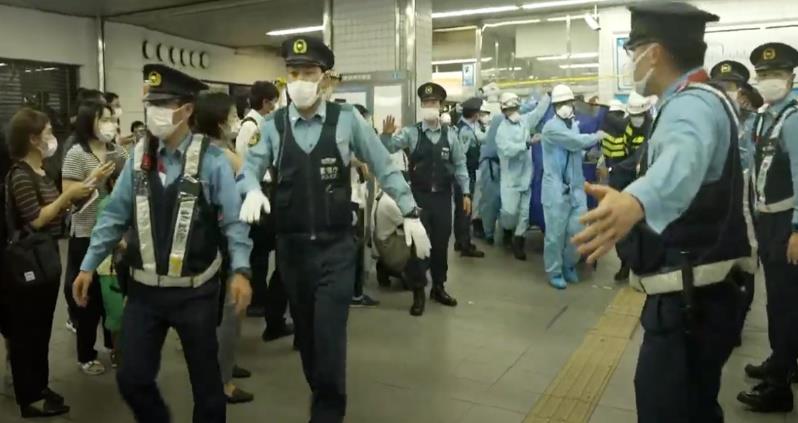 Japan maintains strict laws that limit ownership and possession of firearms. However, violent crimes using other types of weapons, notably knives, do occur occasionally.
In 2019, a lone male attacker killed two people, including a schoolgirl, and wounded more than a dozen others in a rampage that targeted children as they waited for a bus.
In 2018, a man was arrested in central Japan after stabbing one person to death and injuring two others on board a high-speed rail train.
In 2016, in one of the deadliest mass attacks in Japan since World War II, a male former employee of an elder care facility stabbed and killed 19 people (nine men and ten women), ranging in age from 18 to 70, and injured 26 others. Several months before this attack, the perpetrator had written a letter claiming that he had "the ability to kill 470 disabled people." In 2015, he had fought and injured a man at a suburban Tokyo train station. For the stabbing spree, this attacker received a death sentence in 2020.