Fortify 24x7 Backup is now
Get it all back with reliable disaster recovery
From full system disaster recovery to fast file-level restore, Fortify CDP offers flexibility and reliability to help you save the day.
Try It Free
One backup,
many recovery options
"We previously used MSP360, but it proved difficult to use, and we had problems restoring from it. We don't have to worry about Cove. It just works, and it's saved the day three times recently when customers suffered ransomware attacks."
David Lloyd
BlueBox Integration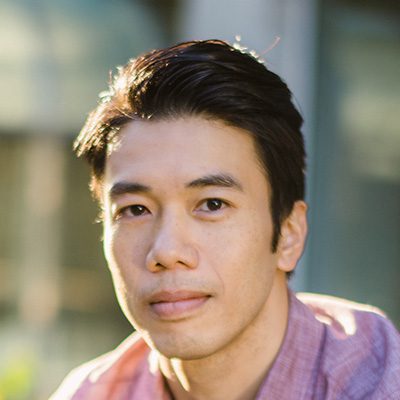 Recover just what you need

Appliance-free local recovery

Automated recovery testing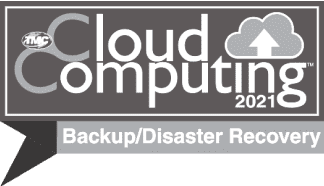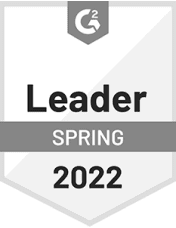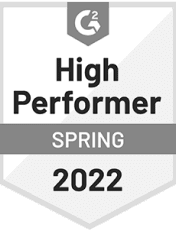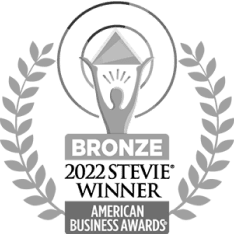 Disaster recovery that fits your business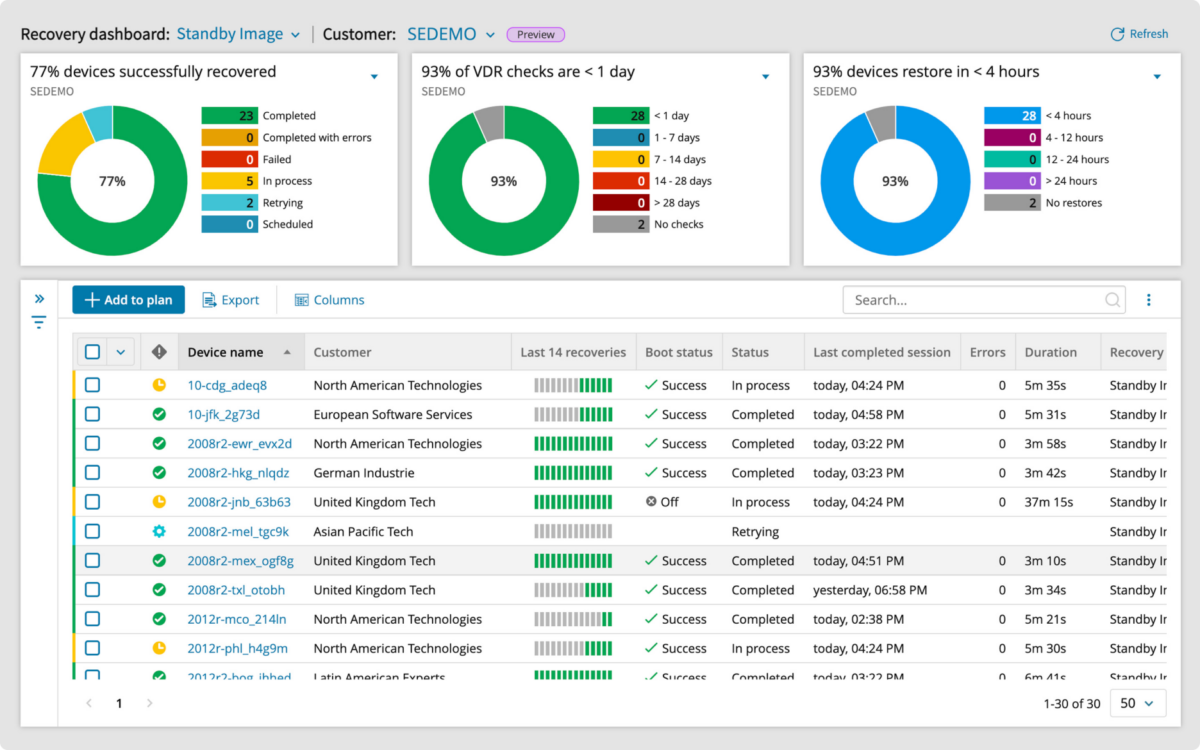 Be ready with a standby server
For the most demanding recovery-time objectives, proactively set up a standby image and automatically send every backup to it so you're ready for fast failover at any time.
Respond with bare-metal or virtual recovery
When disaster strikes, Cove helps you recover a full device to a virtual machine or to new hardware—the choice is yours.
Cove can perform automated backups as often as every 15 minutes to support demanding recovery point objectives and minimize data loss.
Appliance-free local recovery
With Cove's LocalSpeedVault, you can recover files or full systems from a local storage device of your choice or directly from the N‑able cloud.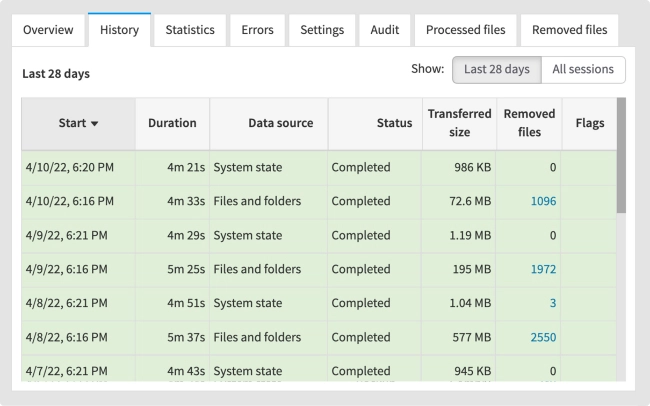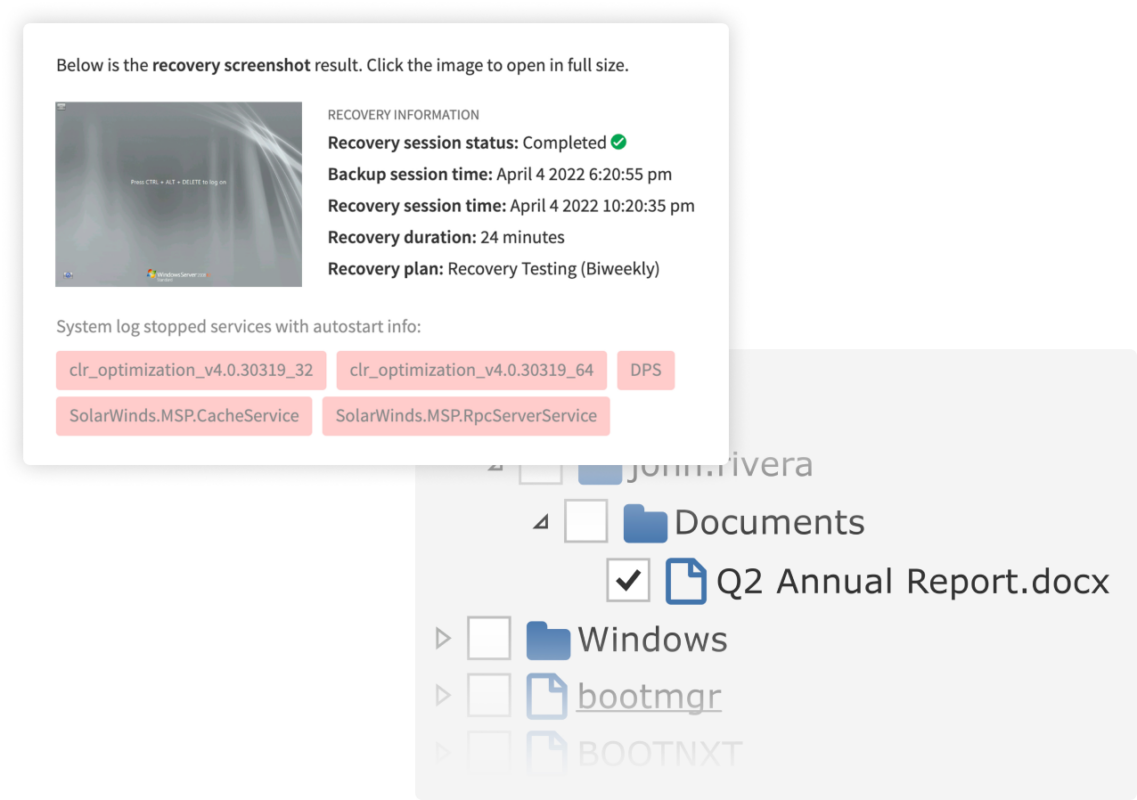 Save time with automated recovery testing
For one low monthly fee, Cove will automatically test your backups and provide reports that validate recoverability.
With Cove, there's no need to restore a full image just to restore one folder or a few files, and routine restore tasks are easily delegated to customers or help desk personnel.
"I've been in IT for over 40 years, and I've tested and tried about every backup solution out there. If they say it backed it up successfully, I know confidently that the data is safe and will be able to be restored if needed."
JIM CHRISTOPHER,
SENIOR ADMINISTRATOR, S&L COMPUTER SERVICES

"Backups that used to take eight hours are now complete in ten minutes."
"Backups that used to take eight hours are now complete in ten minutes."
-KYLE ORR,
OOR SYSTEMS
"Backups that used to take eight hours are now complete in ten minutes."
-KYLE ORR,
OOR SYSTEMS

Fortify Disaster Recovery/Business Continuity (DR/BC) consulting and DRaaS services provide a framework to improve the availability of critical applications and safeguard the interests of your organization.
With more than 25 years of data center experience, Fortify combines deep technical expertise with best practices in business continuity and disaster recovery, virtualization and consolidation, data protection, and advanced network infrastructures to help you mitigate risks.
Our business and IT professionals provide a full suite of services, including IT consulting, analysis, design, implementation, management, and ongoing technical support.
We will help you:
Mitigate risk at multiple levels (business, individual, and staff) by ensuring continual access for priority business functions (production, transaction processing, etc.)
Minimize downtime and losses
Improve your ability to rapidly restore critical IT systems and data in the event of a disaster
Minimize associated costs following an incident
Ensure regulatory compliance
Align business processes and information systems
Identify and validate mission-critical, time-sensitive business functions aligned with IT support capabilities
Architect and deploy viable IT recovery solutions
Take advantage of virtualization and cloud to develop an agile and cost-effective disaster recovery strategy
Establish documented, practical "playbooks" to support the response and management of business disruptions
Define and roll out a road map to exercise and enhance business continuity capabilities
Fortify takes a holistic approach to improving availability, recoverability, and security throughout the enterprise. Our methodology is founded on industry best practices, internationally accepted standards, and years of practical experience. We ensure your plan provides the capabilities to recover from a global disaster, and we'll help your business improve availability by significantly decreasing those seemingly minor outages that can have a far-reaching impact.
Our approach to IT DR/BC encompasses:
Capability assessment and strategic planning, including qualitative and quantitative information gathering (processes, applications, infrastructure, and resources)
Business impact analysis and requirements definition
Risk assessment and gap mitigation planning
Strategy and solution design, work with your internal experts to perform a cost benefit analysis to determine a solution's pro's, con's and TCO
Plan development
Periodic capability validation
Business-focused data continuity briefing with business and IT stakeholders
Governance and program management guidance
Disaster recovery that goes beyond IT infrastructure
Until recently, DR/BC plans focused on restoring the entire infrastructure, which is not necessarily a sustainable, long-term approach. Fortify focuses on the three critical elements:
Processes – What are the key business processes?
Applications – Which applications support these processes?
Infrastructure – What infrastructure (networks, data, applications) is needed to ensure continuity?
We work closely with you to identify all linkages and dependencies, and then develop a corresponding recovery sequence plan. This holistic approach ensures continuous operations, competitive advantage, and risk mitigation.
Engage with a Fortify Disaster Recovery Specialist Today!
[caldera_form id="CF617068f2f1a6d"]