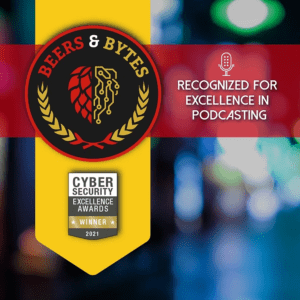 Beers & Bytes was recently named the Gold Winner for Best Cybersecurity Podcast among North American-based companies with between 10 and 49 employees. The honor was conveyed by the highly-coveted Cybersecurity Excellence Awards program.
The recognition comes as the podcast is set to release its eighteenth episode Visit: www.beersandbytespodcast.com or listen on the following 19 platforms:
Amazon Music
Castbox
Castro
Deezer
Google Podcasts
iHeart Radio
iTunes
Listen Notes
Overcast
Pandora
Player FM
Pocket Casts
Podcast Addict
Podcast Index
Podchaser
Podfriend
Spotify
Stitcher
TuneIn+Alexa
The Cybersecurity Excellence Awards is an annual competition honoring individuals and companies that demonstrate excellence, innovation and leadership in information security. For more information, visit www.cybersecurity-excellence-awards.com.
This podcast is also available to view on YouTube at https://youtube.com/beersandbytes